Legence Bank App
Manage your accounts on-the-go with our free App, available to Online Banking users. Enjoy the 24/7 convenience of banking on your iPhone®, Android®, or iPad® devices — check your balance, transfer funds, pay bills, and more!
Save yourself some time and an unnecessary trip to the branch — download the Legence Bank App today!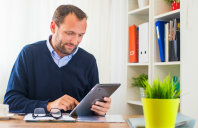 Summary

Free App allows you to access your accounts on-the-go, 24/7
Built specifically for iPhone, Android phone, and iPad devices
Two versions available now at the App Store and Google Play Store:
Basic App for iPhone and Android
HD App for the iPad
Manage your accounts anytime, anywhere:
View current balances
Review recent transaction activity
Transfer funds between your accounts
Pay one time or recurring bills
Make Legence Bank loan payments
Submit a Mobile Deposit
Freeze access to your debit card(s) should you misplace them or have concerns about your card activity at any time
Locate a branch
Contact us
And more!
The App is fast, secure, and easy to use




How to start using the App:

Sign up for Online Banking, if have not already done so. To sign up for Online Banking:
Go to www.legence.com and click "Auto Enroll"
Or speak to a Customer Service Representative at your local branch
Download the App in the App Store or Google Play Store
Log in with your Online Banking credentials




For additional assistance, you may also contact us at 1-800-360-8044.