Fixed Rate Mortgage Loan
From For Sale sign to welcome mat—move comfortably into your dream home with the help of a Legence Bank Home Mortgage Loan. As a customer-focused bank, we go to great lengths to provide accommodating rates and flexible financing.
We all have different circumstances. Take advantage of our several mortgage lending programs to get your foot in your new front door. And everything is handled in-house by a team that's always working to turn our customers' dreams into a reality. Have 20 minutes? Apply for your perfect home online!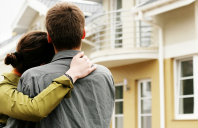 Summary

Competitively low rates for purchase or refinance
Loan secured by real estate property
Financing customized to your unique situation
Specialized lending programs to meet your unique needs
Conventional
USDA
FHA
VA
Fixed rate mortgages
Pre-approval process; shop for your home with greater bargaining power
Easy application process; apply online in as little as 20 minutes
Locally-based professionals with experience in the local real estate market
Local decision-making and processing
Customer-first service from start to finish

Construction Loans

Build your dream home from the ground up with the help of a flexible Construction Loan from Legence Bank. By setting your exact specifications throughout the process, you can ensure that you're getting not only the home you want, but also the customized financing to get you there.

Competitive, fixed rates when building a custom home
Loan amount starts at zero and is drawn as work is completed
6-month terms available
Upon completion of the project, your loan can be transitioned into permanent mortgage financing
Interest due monthly on outstanding principal
Interest may be tax deductible*
Local decision-making and processing
Customer-first service from start to finish

*Consult a tax advisor.